The Career - Fitness Program
Call Number: 331.702 S948c 2013
COUN 145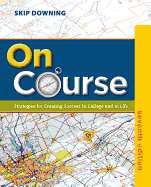 On Course
Call Number: 371.3028 D751o 2014
COUN 159 Avila & 160
Becoming a Master Student
Call Number: 378.198 E476b
COUN 160 McLeod & McBurney
Only McBurney's students may use the older editions.
Citrus College Career Resources
LaGuardia, C. (2010). eReviews: Career Cruising from Ananca Technologies. Library Journal, Retrieved from http://www.libraryjournal.com/lj/ljinprintcurrentissue/885917-403/erevies_career_cruising_from_ananca.html.csp
Library of Congress Subject Headings:
Vocational Guidance
Vocational Guidance -- Periodicals
Vocational Guidance -- Handbooks, Manuals, etc.
Vocational Guidance -- California
Keywords:
careers
jobs
careers and interviewing
Welcome to the COUN LibGuide
Welcome!
This guide provides COUNSELING students information and strategies for accessing print and online resources related to career research. Ideally, this guide is used as a companion to the in-person library orientation taught by a librarian. This guide is organized into major areas reflected in the page tabs above.
Let's get started on your career exploration process!
"Career Cruising is an online career guidance and planning system designed to help users find the right career, explore their education and training options to prepare for it, ..." (LaGuardia, 2010)